The Beacon Church & Christian Centre (LEP) Dover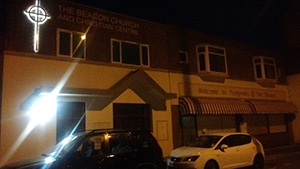 Dover is a major British port with a population of approximately 36,000. The Beacon Church & Christian Centre is situated close to the town centre on London Road. There is also an entrance to the premises in the next road (Bartholomew Street, Dover CT16 2LH). This is a heavily residential neighbourhood and an area with multiple deprivation factors.

In 2003 Tower Hamlets Methodist Church and St Columba's United Reformed Church both closed and united with London Road Methodist Church to form The Beacon Church and Christian Centre (Methodist/United Reformed Church).

Between 2014 and 2016 major building refurbishments took place:

* The two shops in London Road were turned into a single space to become the base for community orientated projects with new a kitchen and toilets. This is known as "Footprints".
* A new entrance and reception area were built giving an entrance to the church from the main London Road with a link to the hall.
* A first storey room was built above the entrance, known as "The Upper Room" for use as a meeting room, counselling and private interviews and shower facilities.
* The kitchen next to the hall was renovated.
* The former church building in Beaconsfield Road was sold and plans are under consideration to create a sanctuary area within the hall.
Services: Sunday services take place at 10.30 a.m
Back to all Churches